Gascoyne Project
GASCOYNE
The Gascoyne Project comprises 100% owned tenements covering 537km2 located in the Gascoyne Region, Western Australia. It is located approximately 250km to the east of Carnarvon and 1,200km north from Perth.
The Project area is highly prospective for Broken Hill-style silver lead zinc ore bodies and quartz vein-hosted gold lodes. Secondary targets include manganese, tungsten, tin and tantalum.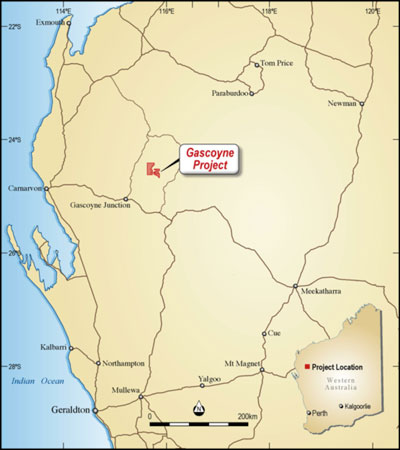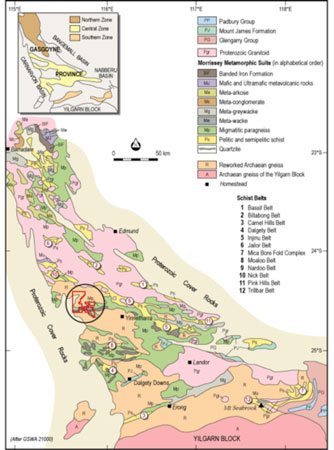 The Gascoyne Project covers an area of mid-Proterozoic aged, metamorphosed sediments and volcanic rocks which have been subjected to several phases of tectonic deformation and intruded by granitoids. Exploration work and drilling to date has used the geological model of base metal mineralisation being associated with coincident soil geochem and "thumbprint" magnetic anomalies.
Historical RC drill testing from one of these targets has returned significant intercepts of 2.3% Pb and 0.9% Cu. Lead sulphide (galena) and copper sulphides (chalcopyrite) were identified in the drill chips.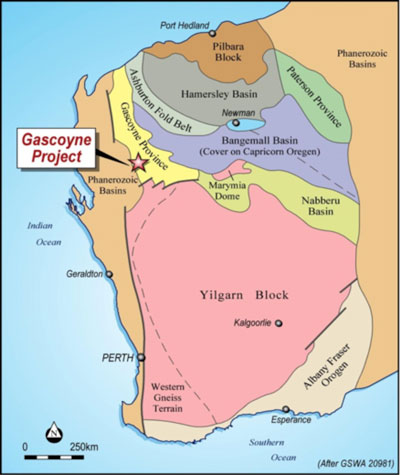 Activities conducted by Audalia at the Gascoyne Project to date included completing:
an IP survey programme
regional and detailed geological mapping;
323 rock chip samples;
696 trap stream sediment samples;
44 stream sediment samples
257 soil geochemistry samples
IP 100m dipole-dipole traverses on 6 N/s lines @ 300m;
Aerial magnetic & radiometric survey @ 100m line spacing; and
Airborne Electromagnetic (EM) survey @ 200m line spacings.
The results concluded that the Gascoyne Project has two sub-economic gold prospects, plus a number of gold and base metal geochemical anomalies that warranted further exploration. These include:
Rock chip gold anomalies:
CW697        25ppb Au      382,014E 7,284,681N        20m by 30cm ironstone
CW1028      61ppb Au       383,524E 7,271,435N         40m by 20cm weakly manganese/ iron-stained quartz vein
CW1039      82ppb Au       386,854E 7,272,789N        10m by 5m patch with 89ppm As sparse ironstone and quartz float
>1000ppm Ba
1113ppm Mn
56.3ppm Mo
Rock chip base metal anomalies:
CW978      >1000Ba         376,324E 7,278,402N         10cm by 10m subcropping 469Cu manganese-rich(?) band.
35.55%Fe
8484Mn
12.1Mo
1013Pb
647Zn
CW989      867Cu             368,526E 7,284,387N          Small patch of subcropping 2385Mn ironstone and vein quartz
992Pb
1759Zn
CW1024    2589Mn         378,242E 7,283,903N          3m by 1m subcropping 1327Zn ironstone
1327Zn
CW1087     2.55Ag           363,331E 7,281,703N           Gossanous(?) quartz vein 25As float near BIF
7074Pb
674Zn
CW999      1022Pb          385,554E 7,274,359N           1m diameter subcropping ironstone
CW1004    1445Pb          378,372E 7,284,992N           100m by up to 1m ironstone
750Zn
Values are in ppm unless otherwise indicated.
Manganese haloes of 2 to 5% are recorded in banded iron formations around the Broken Hill ore bodies. BIFs in Audalia's tenements recorded up 6.84% manganese in rock chip CW1084; this sample consisted of 5cm thick magnetite BIF subcrop and float, located at 368,617E 7,290,083N. The next highest manganese value in BIF was 1.36%.
A map setting out the geology and geochemistry of the Gascoyne Project may be downloaded here
项目
Gascoyne项目位于西澳州的Gascoyne地区,占地311平方公里,其矿区富含铅,锌及铜矿藏,为Audalia公司100%所有。它位于Carnarvon以东约250公里,佩斯市以北约1200公里。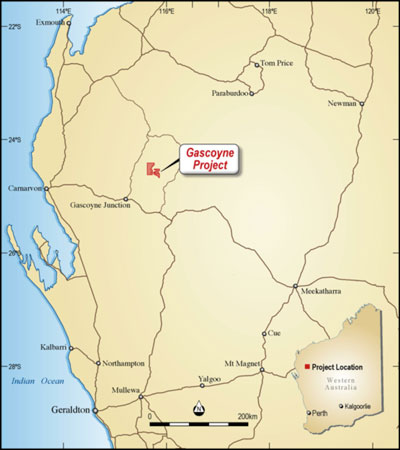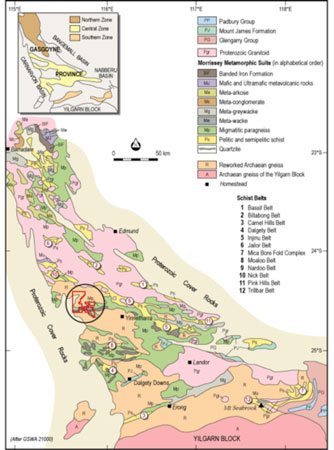 Gascoyne项目覆盖的地区主要包含中古时期的变质沉积物和火山岩,这些物质经历了构造变形的几个阶段以及花岗岩的侵入。迄今为止的勘探及钻探工作使用了基础金属矿化带被土壤重合地球化学和"指纹"磁异常相关的地质模型。此前的反循环钻探测试曾返回了高达2.3%铅和0.9%铜的结果。在钻探取回的样本中发现了硫化铅(方铅矿)和铜硫化物(黄铜矿)。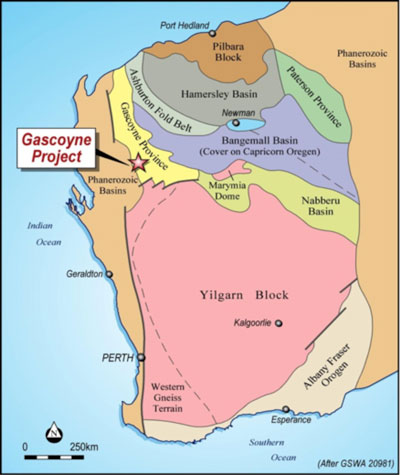 Audalia至今为止在Gascoyne项目上开展了如下勘探活动:
激电测量;
地质绘图;
岩石取样分析;
引导水流沉积物分析;
土壤地球化学分析;
在整个项目覆盖的矿区开展岩石采样和引导水流沉积物采样来勘探金矿。
测试结果显示Gascoyne项目并无显著的金矿储量但却拥有丰富的贱金属,尤其是从条带状铁矿岩层所取的岩石标本中测试出的锰金属。